Google has officially announced the Pixel Fold, its first foldable phone. The Pixel Fold combines the best of both worlds, offering a compact and portable smartphone form factor when closed, and a large and immersive tablet experience when opened.
This groundbreaking device combines the renowned helpfulness of Pixel with a stunning design that unfolds into a compact tablet, offering users an array of innovative possibilities. Powered by the cutting-edge Google Tensor G2 chip, the Pixel Fold not only delivers impressive speed but also ensures top-notch security.
The Pixel Fold features a 7.6-inch AMOLED display with a 120Hz refresh rate, and a 5.8-inch AMOLED display on the outside. It is powered by the Google Tensor G2 chip, and comes with 12GB of RAM and 256GB of storage. The Pixel Fold also features a triple-lens rear camera system, with a 50MP main sensor, a 12MP ultrawide sensor, and a 48MP telephoto sensor.
But that's not all! The Pixel Fold is here to revolutionize your photography game as well. Equipped with the same exceptional camera experiences you've come to expect from a Pixel device, including Super Res Zoom with 5x optical zoom, Real Tone, Night Sight, and stunning Portrait photography, the Pixel Fold takes it up a notch. Drawing on the pro-level modes found in the Pixel 7 Pro, it even offers 10-bit HDR video capabilities. Additionally, Google Photos provides you with advanced editing tools like Magic Eraser and Photo Unblur, ensuring your pictures look nothing short of perfect.
Say goodbye to mediocre selfies because the Pixel Fold introduces Rear Camera Selfie, elevating the quality of self-portraits to new heights. Utilize the exterior screen as your viewfinder and capture stunning selfies with the impressive 48-megapixel main camera.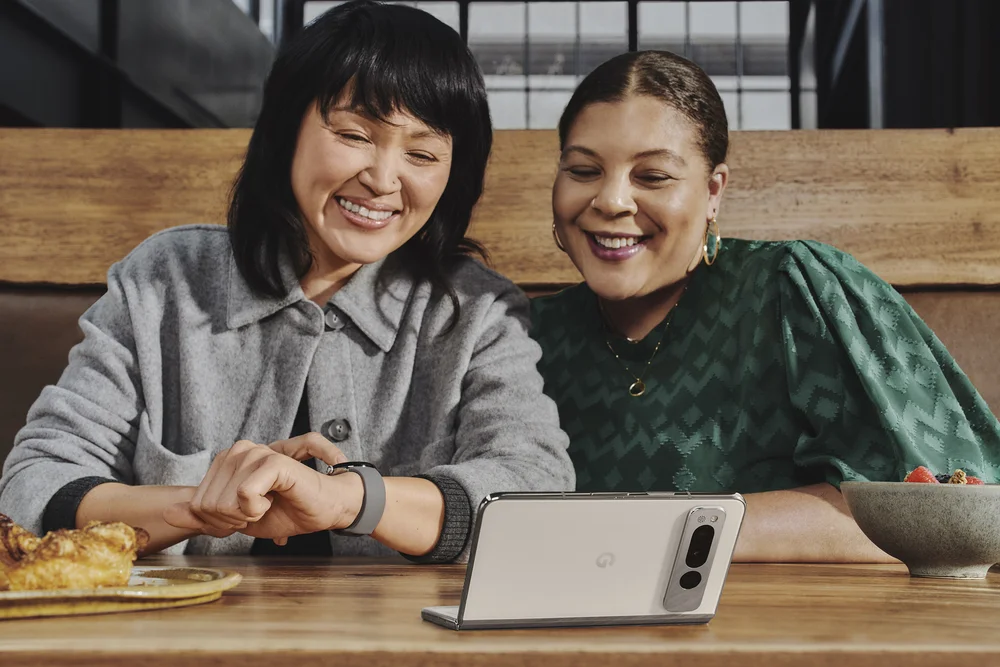 Get you and everyone in shot! Set up the Pixel Fold in tabletop mode across the room and effortlessly join everyone in the shot. Moreover, the innovative palm gesture feature allows you to trigger the shutter, ensuring you never miss a moment. And for all the astrophotography enthusiasts, fear not, as the Pixel Fold captures breathtaking shots even without the need for a tripod.
The Google Pixel Fold is available for pre-order now, and will begin shipping in June. The starting price is $1,799.
Here are some of the key features of the Google Pixel Fold:
7.6-inch AMOLED display with a 120Hz refresh rate
5.8-inch AMOLED display on the outside
Google Tensor G2 chip
12GB of RAM
256GB of storage
Triple-lens rear camera system
Rear camera selfie mode
Tabletop mode
Starting price of $1,799
The Google Pixel Fold is a powerful and versatile foldable phone that offers a great balance of features and price. If you're looking for a foldable phone that can do it all, the Pixel Fold is a great option.
Pixel Fold will be available in two colors, Porcelain and Obsidian.
Coming soon with Android 14
At the Google I/O event got a sneak peek at Android 14 which launches later this year.