What's new in GeForce Experience 3.26
New 8K 60FPS HDR ShadowPlay Recording
Shadowplay recording now supports 8K 60FPS HDR recording for RTX 40 class graphics cards. Press Alt+F9 to start recording!
Optimal settings support added for 51 new games including:
Battle Teams 2, Captain of Industry, Century: Age of Ashes, Death Stranding Director's Cut, Dinkum, Dolmen, Dread Hunger, Dune: Spice Wars, Dying Light 2 Stay Human, ELDEN RING, ELEX II, Evil Dead: The Game, Expeditions: Rome, EZ2ON REBOOT : R, F1 22, FINAL FANTASY VII REMAKE, Five Nights at Freddy's: Security Breach, GhostWire: Tokyo, God of War, Grid Legends, Hell Pie, Hydroneer, LEAP, LEGO Star Wars: The Skywalker Saga, Martha is Dead, Monster Hunter Rise, Mortal Online 2, My Time At Sandrock, Nightmare Breaker, No Man's Sky, Paradise Killer, Poppy Playtime, Post Scriptum, PowerWash Simulator, Propnight, Shadow Warrior 3, Sifu, Sniper Elite 5, Starship Troopers – Terran Command, STRANGER OF PARADISE FINAL FANTASY ORIGIN, Stray, The Anacrusis, The Cycle: Frontier, The Planet Crafter, Tiny Tina's Wonderlands, Tom Clancy's Rainbow Six Extraction, Total War: WARHAMMER III, V Rising, Vampire: The Masquerade – Swansong, Warhammer 40,000: Chaos Gate – Daemonhunters, Warstride Challenges
Squashed Bugs!
Fixed game minimization issue while enabling the in-game overlay for games such as Farming Simulator 22, Cyberpunk 2077, PUBG: BATTLEGROUNDS, and F1 2021.
Fixed desktop notification for rewards.
Fixed an issue where Alt+F12 hotkey was unusable in other apps
Fixed an issue where performance overlay resets to Basic after system reboot or starting a new game
Fixed an issue where Reflex Analyzer incorrectly shows Render Latency instead of PC Latency.
Fixed an issue where the system restarts after self-update.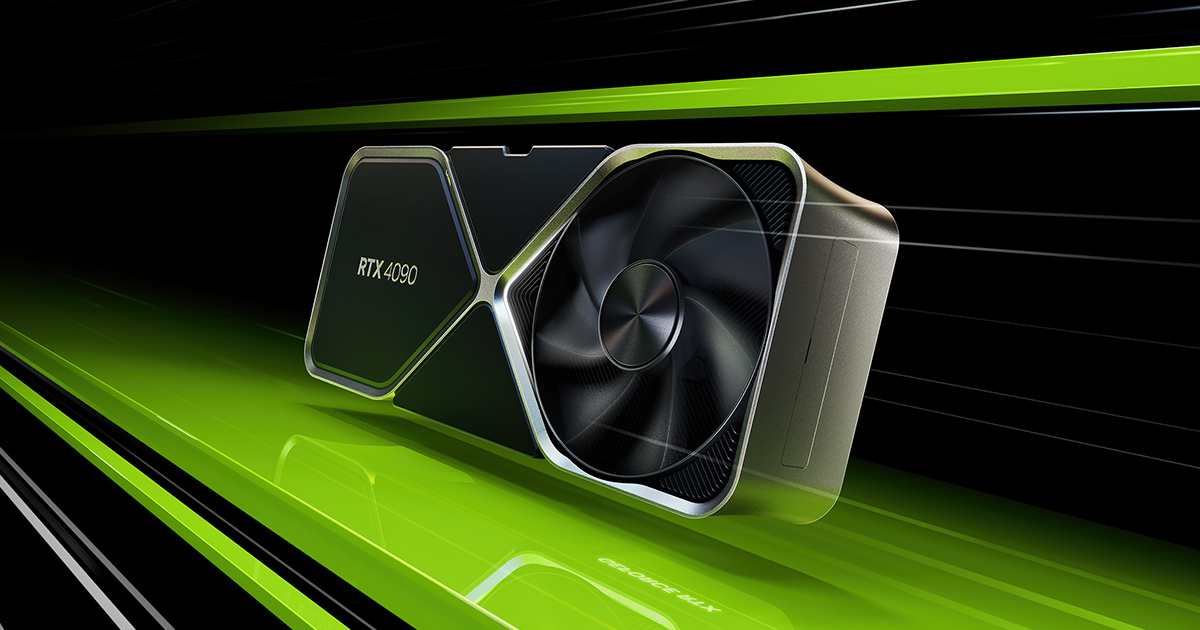 The GeForce RTX 4090 is available now from NVIDIA and top add-in card providers ASUS, Colorful, Gainward, Galaxy, GIGABYTE, INNO3D, MSI, Palit, PNY, and ZOTAC, as well as from gaming system integrators and builders worldwide.
In creative apps, the GeForce RTX 4090 is up to 2X faster. Thanks to the addition of dual 8th Gen NVIDIA Encoders, which include support for the next-gen bandwidth-optimizing AV1 codec, export times are slashed in half for video production.
Live streamers will see 40% better efficiency, allowing them to produce higher quality streams with the GeForce RTX 4090 added to their home production setups. And AI tools will speed up previously tedious tasks, like Rotoscoping in Blackmagic Design's DaVinci Resolve, which will now be 70% faster than the previous gen on the new GeForce RTX 40 Series GPUs.